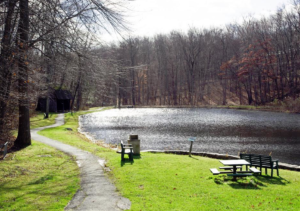 Inspiration born out of necessity
A picturesque setting taken from the pages of your favorite outdoor remembrance, the pond area within our local Town Park is a gently serene, beautifully cultivated, natural habitat. Once a proud bellwether for all seasons, the Pondhouse shelter overlooking the water has long watched over us as we took personal moments to retreat and reflect, beheld our children as they cast lines in the Town's annual fishing derby, and protected us from the elements as we prepped our ice skates for endearing moments with friends and family.
But father time remains undefeated, and mother nature has taken her toll. Replacing the current structure has become a priority…the first project for Friends of Pound Ridge is born.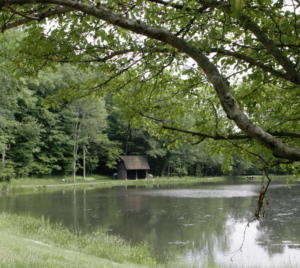 The FoPR vision for the new Pondhouse is to create a structure that is dutifully purposed for year-round and multi-functional use. Designed by local architect Tom Smith, the new structure will be more adaptable to the needs of our local Pound Ridge community.  In the winter months, ice skaters will not only stop in for a preparatory visit but will be afforded a respite from the cold as they warm up next to the new firepit. In warmer months you can enjoy the serenity of the pond and relax in one of the newly installed Adirondack chairs. But year-round and best of all, the new Pondhouse can be used as a true gathering place, a place for birthday parties young and old, a comfortable abode for seniors to congregate and chat, and as an additional sanctuary providing sheltered amusement for our Summer campers.
The new Pondhouse will restore beauty to the pond area and prove to be an asset we can all be proud of.