Register for the 2021 Pound Ridge Community Golf Tournament
 Become a Golf Sponsor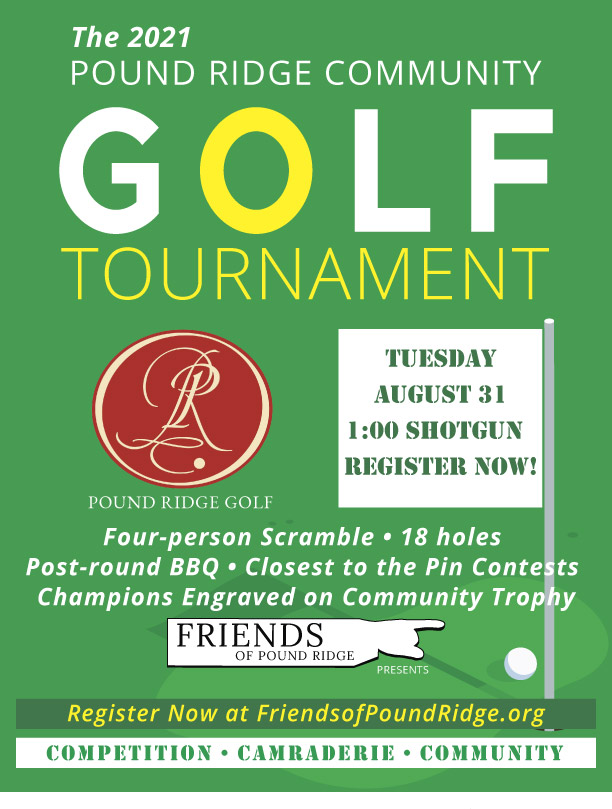 It started as a glancing thought. An impromptu think-tank on how to bring a close-knit Pound Ridge Community out to play together in a responsible yet creative way during a global pandemic. Safety is a primary keyword. As responsible community leaders, the challenge to deliver with originality is more tested than ever.
It quickly evolves into a conversation about a golf event. Golf, the game du jour. So many locals playing golf so regularly already. Could FoPR produce a golf event?  Could the event meet the Friends of Pound Ridge track record for excellence? And what about the FoPR Board, a fast-developing group delivering creative and original productions. Could a golf tournament meet their standard for both responsibility and creativity?
A deeper dive with the FoPR Board left us with a plan. Based upon certain criteria the golf event concept had life and could potentially live up to expectations, but there was another big hurdle. What about the location? The event would still need a golf course.
There are 100 Pete Dye-designed golf courses in the civilized world. Pete Dye is a legendary golf course designer, and one of those 100 designs actually exists right here in good ol' 10576. The obvious choice for a golf event of this magnitude would be Pound Ridge Golf Club. Next hurdle, does the management team at Pound Ridge Golf Club see it the same way?
A quick phone call over to PRG and a left message keeps us in suspense. Would they be interested? Would they see what we see? Would they even return the phone call?
Fast forward 24 hours. Suspense is short-lived. A positive conference call with all teams involved leaves us enthused with the possibilities. A few more detailed conference calls and "The Pound Ridge Community Golf Tournament" is born. It takes place on three consecutive Tuesdays in August at the famed Pound Ridge Golf Club. Beyond a fabulous golf course, the event includes an abundance of amenities and incomparable food selections, all more amazing when reminded of the pandemic taking hold of the world at the same time.
The event sells out in a week. The preparation has energy. Vendor conversations are electric with enthusiasm. As most things meant to be, the event comes together quickly and easily.  Everyone involved has an amazing time together, together again. All teams are very pleased with the results. Sponsors are calling to get into the conversation, participants are inquiring about the next event, and post-tournament excitement quickly fuels future planning. The organizations are already discussing potential options. There are talks for an even larger Spring event, as well as other community-centric events beyond the Spring. We are thrilled with all your email messages of inquiry and support.
Thank you all for coming out and for the ever-dramatic show of support. A completely sold-out event held under skies only pictures can describe…