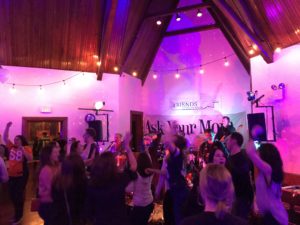 What makes a town special? It's not the name, it's not the location, and it isn't the buildings. It's the people. On January 26 the Friends of Pound Ridge held their first Annual Tailgate Party Fundraiser at Conant Hall. We celebrated as Community, we ate, we drank, we danced. Tailgate themed catering provided by The Market at Pound Ridge Square, the food was great and the service even better! Live music included the soulful sounds of Johnny Praino and ever-popular local favorites Ask Your Mom.
The FoPR Tailgate event raised over $16k. 100% of the net proceeds will go towards The Pondhouse Project.
Images from the big event have been captured here in the FoPR Tailgate 2019 Image Gallery.
Friends of Pound Ridge Would like to extend a sincere Thank You to John Praino, Ask Your Mom, Dave Goldberg and the Town of Pound Ridge Police Department for their contributions. Lastly, we thank everyone for gathering to support the event and again demonstrate what makes Pound Ridge who we are.
Fundraising for The Pondhouse Project continues on. Dedication Bricks are now available for sale. Visit 
friendsofpoundridge.org
for details